Amanda!
She's so blessed to have that "wild" red MIXER! I'm sure all the plans are going perfect for this wedding. You know we are going to be praying for all of you!
I found a precious set of dishes with some beautiful glasses for Melissa and Colin. I keep remembering the blue bracelets we wore when we first logged into "Believing God." We learned our "Statement of Faith" and wore our blue bracelets all through the study.
These dishes and glasses remind me to Believe God. Melissa, here's another thought-gift for your new home~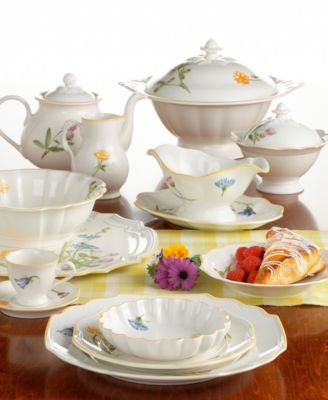 My Garden dishes by Villeroy & Boch
and
Boston coloured (blue) by Villeroy & Boch
and
Montparnasse ivory cutlery by Villeroy & Boch
And now I have two recipes...
one is from my mom and one is from me.
A legacy of recipes:
From my mom: Mom's No Weep Meringue
1 T. cornstarch
8 T. sugar
1/2 c. water
pinch of salt
3 egg whites
Preheat oven to 325 degrees.
Cook together cornstarch, 2 T. sugar and water until clear and set aside.
Add a pinch of salt to 3 egg whites.
Whip until foamy or standing in peaks.
Add to the cornstarch mixture.
Continue beating until creamy.
Add 6 T. sugar gradually beating until very creamy.
Pile on pie and bake 30 minutes or until light brown.
Very tender and good!
From me! Twinkle's Red Velvet Cake with Cream Cheese Icing
1 1/2 c. sugar
2 c. vegetable oil
2 eggs, beaten
1 tsp. vinegar
1 2-oz. bottle red food coloring
2 1/2 c. plain flour
1 tsp. baking soda
1 tsp. salt
2 T. cocoa
1 c. buttermilk
1 tsp. vanilla extract
Cream sugar and oil in mixing bowl.
Add eggs and beat well.
Add vinegar and food coloring and beat well.
Sift flour, soda, salt and cocoa together; add to creamed mixture alternately with buttermilk.
Add one tsp vanilla and beat well.
Pour into three greased and floured cake pans.
Bake at 350 degrees for 25-30 minutes.
Cream Cheese Icing:
1 8-oz. pkg cream cheese, softened
1 stick margarine
1 tsp. vanilla extract
1 box powdered sugar
1 c. chopped nuts
Cream margarine and cream cheese in bowl and add vanilla extract.
Sift the powdered sugar and add to creamed mixture gradually.
Add nuts and mix well.
Spread on top of cake layers and place layers together.
Spread on side of cake.
Yummy!
This message has been edited. Last edited by: twinkle,